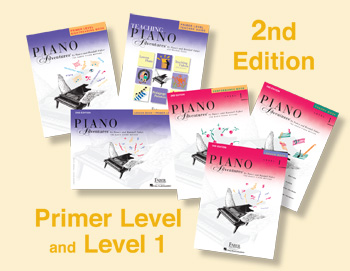 Graphic Copyright by Dovetree Productions, Inc. Used with permission. 
Piano Adventures, the beloved series by Nancy and Randall Faber, is now available in a 2nd edition. That is good news to me, because I am always interested in anything new from the Fabers. As soon as I received the news about the 2nd edition I ordered copies and I was pleasantly surprised when I received the books a few days later. 
Teachers who use Piano Adventures are curious as to exactly what is new. It is worth noting that this is a second edition, not an entirely different method. The things you love about Piano Adventures, the wonderful music and creativity, are still there. According to their website, only the Primer and Level One books will be updated.  
The Primer Level begins as it did in the first edition but there is an updated table of contents that spans two pages. Each piece is listed in a table that shows the correlating pages in the Theory, Technique, Performance, and Sightreading books.  Sight-reading! Yes, now there is a sight-reading book to accompany the series, but it is not available yet, so I can't review it here. It should be available in a few weeks.
Most of the graphics are the same, but there are some changes in color and size. For example, in The I Like Song, the keyboard finger graphic was enlarged and moved to a more prominent position. At the beginning of the book, a page was added to work on finger numbers and firm fingertips. More color was added to the pages to emphasize student instructions.
The Pecking Rooster and Hen now get their own page and a helpful piano graphic. Throughout, some of the Discovery and other creative elements at the bottom of the pages are different. I noticed that "home note" is used a lot for the word "tonic." My favorite 3 note song in the entire world, My Invention, is still there!
Some of the titles or words to the music are different. The title to Russian Sailor Dance was changed to Russian Folk Song, using the words from My First Piano Adventures to help with the dotted half note rhythm. Your students will be happy that Once There Was a Princess is now Princess or Monster.  
Moving along to Level One, the beginning was refined to help with a smoother transition for students who are coming from My First Piano Adventures Book C. The pedagogy was updated to reinforce note-reading skills. Grumpy Old Troll, one of my favorite pieces in this book, now has words. There are a few new pieces, and there is more emphasis on famous composers.
The theory books were changed to correlate more with the Lesson book, both in artwork and material. There are more improvisation activities and ideas. The Performance and Technique books were updated in a similar manner. As far as I'm concerned, the Technique books are one of the best parts of the Piano Adventure series, and if you don't use them, check them out.
A teacher guide to the Primer Level will be available in June. According to the cover of the Lesson Book, it will include pedagogy, lesson plans, duets, and best yet, a "DVD of model teaching for each piece." This is an exciting new addition for piano teachers.
To read more about the new edition, go to Piano Adventures Second Edition. Be sure to check out the interactive Piano Adventures Custom Correlation Chart. You can also find information on how to sign up for their new release program.  
Congratulations to Nancy and Randall Faber, production coordinator Jon Ophoff, and the rest of the team for this successful new edition of Piano Adventures!