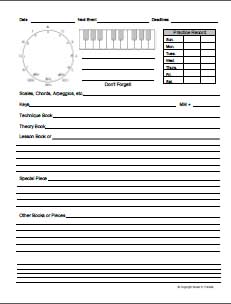 Assignment Book
It is difficult to make an assignment book that has everything I want and works for all ages, but I really like my new one. It has several features that I hope will help make it easier to write new assignments. I thought it would be fun to share it with you!
There is a Circle of 5ths for visual learners. Also, if students continually see the Circle of 5ths, it becomes easier to learn.
I added a small keyboard to mark the keys for 5 finger scales. The black keys are gray so marks can be seen easily. There is a flexible practice chart that is good for two weeks if a student misses a lesson. The extra space can also be used for parents to initial.
The lines under the keyboard can be used for whatever is needed, such as parent notes. If a student needs to bring something to the next lesson, or needs any kind of reminder, I write it here.
At the top there is a way to help students manage their time, with a line for upcoming events, such as festivals, and also the deadline when a certain section should be memorized. This helps the student and I set long and short term goals.
There are two lines to write scales and arpeggios, as well as a line to write in the metronome tempo.
There are lines for theory, technique, and lesson books. Since half of my students are finished with method books, the lesson book space is flexible.
I believe every student should always be working on a special, long range piece. I write extensive practice suggestions, so I left plenty of space for that.
At the bottom, there is a staff to draw symbols or start a composition. I encourage them to write down an idea, no matter how small, so they will not forget it.
This sheet is made to be printed front and back and put in a 3-ring binder. If you want it bound with a coil binding, check around for a good bargain.