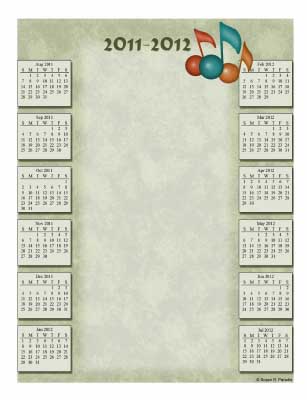 Binder Calendar
I promised I would post this calendar soon, and here it is.  It matches the binder cover I posted a few days ago.
This is the planning calendar I made for my students. Arlene Davenport (a great teacher and festival judge) gave me one like this that she makes for her students binders, and I just had to make one myself, using my theme for the year.
In the center I listed all their events for the year, including "memorize by" dates, group lessons, holidays, recitals, festivals, and tests.  I circled all the "memorize by" dates in red and I put green squares around the actual events. You can use colored highlighters in the same way.
Also, you can give this to your students just the way it is and ask them to use the space in the middle as a to-do list.
There is space on the left side for a 3-hole punch. If you use a spiral notebook, cut around the white space and tape it to the inside.
If you have trouble printing on templates, read on. If not, I hope you enjoy my calendar!
Tutorial
Print the PDF of my graphic and set it aside. You will need to have Adobe Reader installed, which is a free program to download from  Adobe's website. For best results, use the latest version. When you print, it is important to make sure page scaling is set to "none".
Draw an X on a plain piece of paper. Put it in your printer and make note of what side your printer prints. I suggest you write it down if you have a lot on your mind.
Open Word. In "Page Set Up" set the left, right, and top margins to 2.25 inches, and the bottom margin to 1 inch. If you are not in North America, I hope you know how to adjust for A4 paper.
Type up your studio's events using whatever size and font you like.

It looks really nice if you use this dark olive font color, so I suggest you try that.

Adjust the spacing to fit your events.
Remembering what side your printer prints on, insert my graphic into your printer.
Print a test copy. If it's on the wrong side, try again!