Let's Play Ball
I have made a lot of worksheets to help students learn piano keys, but I have not made one for baseball. I have one little guy who just loves the game so I made this for him. In order to save paper and make it more fun for students, I designed it big enough to use on an iPad. If you don't  want to use this on a mobile device, print it out just as you usually do. Be sure to print in landscape orientation. Don't try to click on the picture above, because that will just pop up a low resolution image that is only for illustration purposes and it does not look good in print or a mobile device. Click the heading under the picture and it will take you to my website where you can print it.
If you want to try it on a mobile device, here is one easy way to download this into Skitch, a free app for Apple and Android.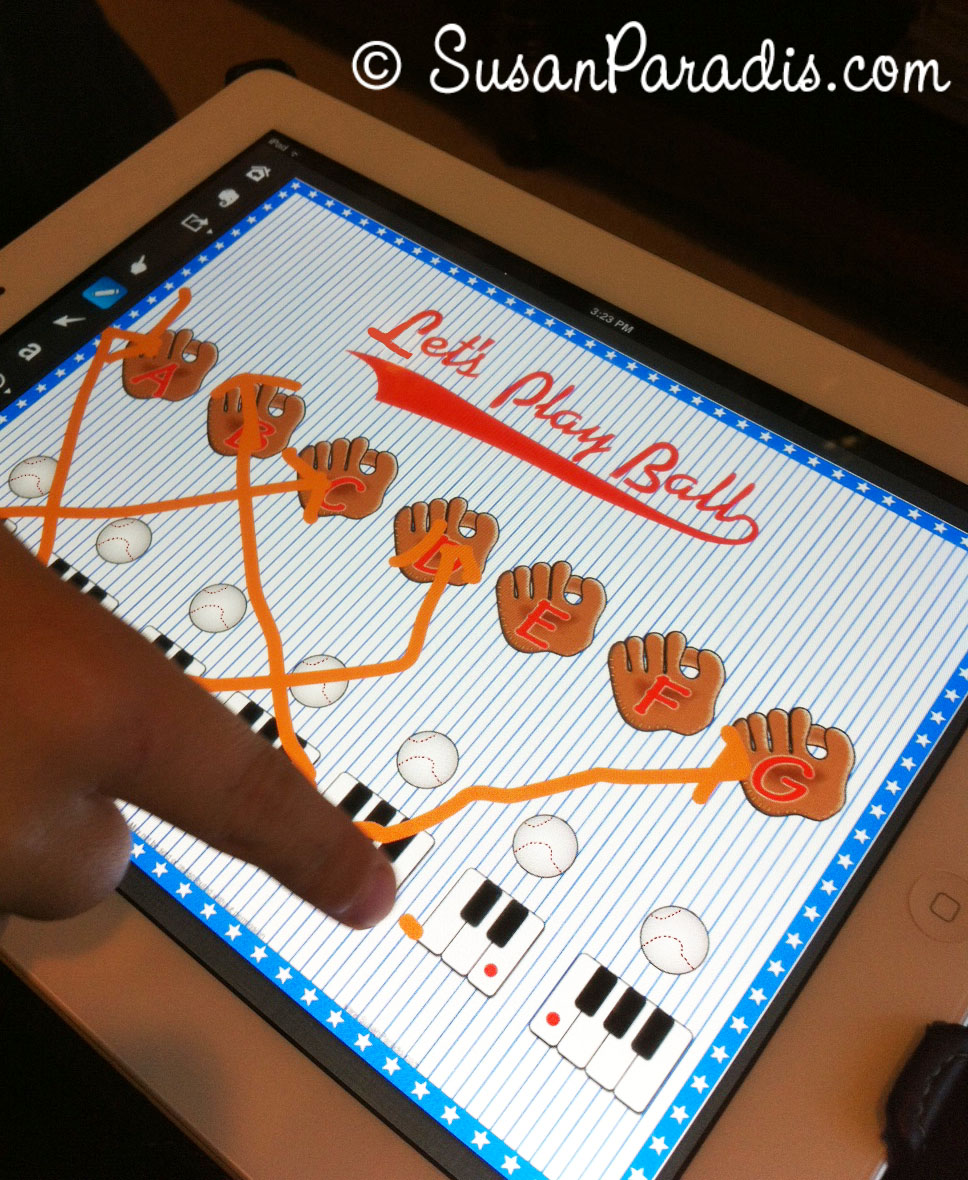 Directions for using the Skitch app

Using your iPad, open the Skitch app. On the home page there are several icons on the top row. Select "Web."
When the next window opens, there will be a place to type in an address. You will have to open the typing tool. Type in www.SusanParadis.com  (do not use the address for this blog)
Select "Worksheets" and scroll way, way down the page until you see number SP614, Let's Play Ball. Select it and then select "Download". This opens the Let's Play Ball printable, but you are not going to print it.
Turn the iPad to landscape orientation (sideways). Using two fingers, center the graphic exactly like you want it.
Click the camera icon on the top left side of the app.  Skitch saves the graphic and places a tiny icon of it on the home page for future use. You cannot change my graphic (other than crop it or zoom in or out), but you can draw or type all over it.
Now the student can use the arrow or pencil tool and draw a line from the keyboard to the correct letter.
The trash can icon at the bottom of the left hand side will clear the graphic of any marks your student makes so that it will be ready for your next student. The third icon down on the left side is the "send to" tool. You can send it to a parent to show them how much your student is learning!
If you want more info on how to use Skitch, see my 2 posts from this past summer.
Disclosure: I have no connection to Skitch whatsoever, nor does the company know I recommend the app, but I've found this one is good for piano lessons. I wanted an app that was easy to use and didn't take much time to learn, and Skitch is my favorite. Leave a comment if you have a favorite app to use with your students. If you like my printables, please go to my Facebook page Susan Paradis' Piano Teaching Resources and "like" it!