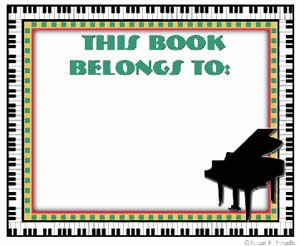 Music Bookplate
Do you ever get your personal books mixed up with your students' books? I have personal desk copies of many of the books my students use. I also have books I loan out. I made this big label, something that will really stand out, so I will immediately know which books are mine. I am sharing it with you in case you would like to use it too.
My first attempt used a lot more ink and had more color on it, but I toned it down to save ink. It is always a conflict to balance my love of color with my desire to save ink!
You can also use it for siblings' books that get mixed up, or books you loan out. If you are a school teacher, this will help you keep your music books together. The Avery labels that I use has complete coverage if you want to stick a  new label on top of the first one.
I used Avery Shipping Labels # 8164. I bought them from Staples, which is offering a $5.00 rebate as I write this. That was a lucky break! You might want to check a discount store for the best price. There are 6 labels per sheet, enough for 250 books.
When you print this, please be sure to use the latest version of Adobe Reader and set the page "size option" to "fit". If you are not using the latest version, select "no page scaling." Otherwise, the printable will not be centered correctly on the label.
A bonus is now you have a supply of big, blank shipping labels when you want to mail a package!