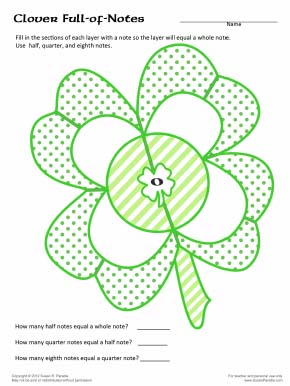 Here is a worksheet I made in black and white back when I taught music ed. I've updated it by adding colored patterns. However, after going through so much ink this year myself, and from your comments, I carefully made this to save ink.  I used dots and lines instead of full color, and that really does save ink! Another way to cut ink use in half is to use my printer's "fast" setting. It's not as vivid, but it works.
Students fill out each layer with eighth, quarter, or half notes to equal a whole note. It's similar to the rhythm circle I posted years ago, but more fun. Here is how to fill it out. It's a lot easier to show than explain!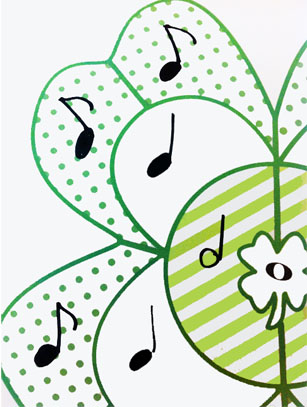 I have more St. Patrick's Day material on my website www.susanparadis.com. When you get there, click on one of the tabs such as "Games." When a new window opens, on the left in small print 5 lines down you will see a link for "see entire catalog." Click on that and scroll down past all the music I've posted. The St. Patrick's Day material is right after the Valentine material. I'm gradually trying to group the holidays together, but so far I've only done Valentine's and St. Patrick's Day.
There was a glitch on this blog last week. For some reason if you tried to "subscribe," it took you to my PayPal page where you donate. That was an accident. You do not have to donate to subscribe. It was so embarrassing! I was able to find a WordPress wizard who fixed it for me. Some of the code had changed, and I promise I have no idea how to do that or how it happened. Thank you to the kind reader who alerted me to the problem!